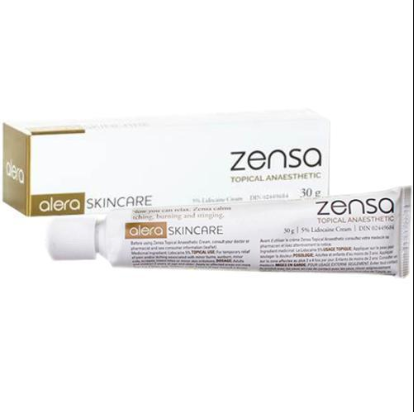 ZENSA NUMBING CREAM - Available in 30G tube and 2.5G tube


True Tattoo Supply now carries the top choice in numbing is "Zensa Numbing Cream" ... With 5% Lidocaine, Zensa Topical Anesthetic provides a numbing sensation that desensitizes skin for painful procedures including laser hair removal, waxing, tattoos, piercings and injections. ... Apply a generous layer of Zensa topical anesthetic and you're good to go after 1 - 2 hours of application.
Maximum strength (5% lidocaine) 
No effect on ink - doesn't include vasoconstrictors like prilocaine.
Safe to use around sensitive areas (pH neutral).
Numbing lasts 2-3 hours after removed from skin.
Safe to reapply after skin has broken to extend numbing sensation.
For all of the irritating or painful procedures, you may perform on your lash and brow clients, such as microblading, waxing, electrolysis, and tattooing use our topical anesthetic cream beforehand to help prevent pain and make the procedure more tolerable for the client. Our Zensa topical anesthetic cream contains vitamin E and antioxidants that provide anti-inflammatory properties. The cream starts to work in 30 minutes and lasts for more than three hours.
Product features:
Prevents and relieves pain and swelling.

Prevents and relieved itching associated with skin irritation.

Provides natural numbing.
Do not use more than four times daily.
Store At Room Temperature.