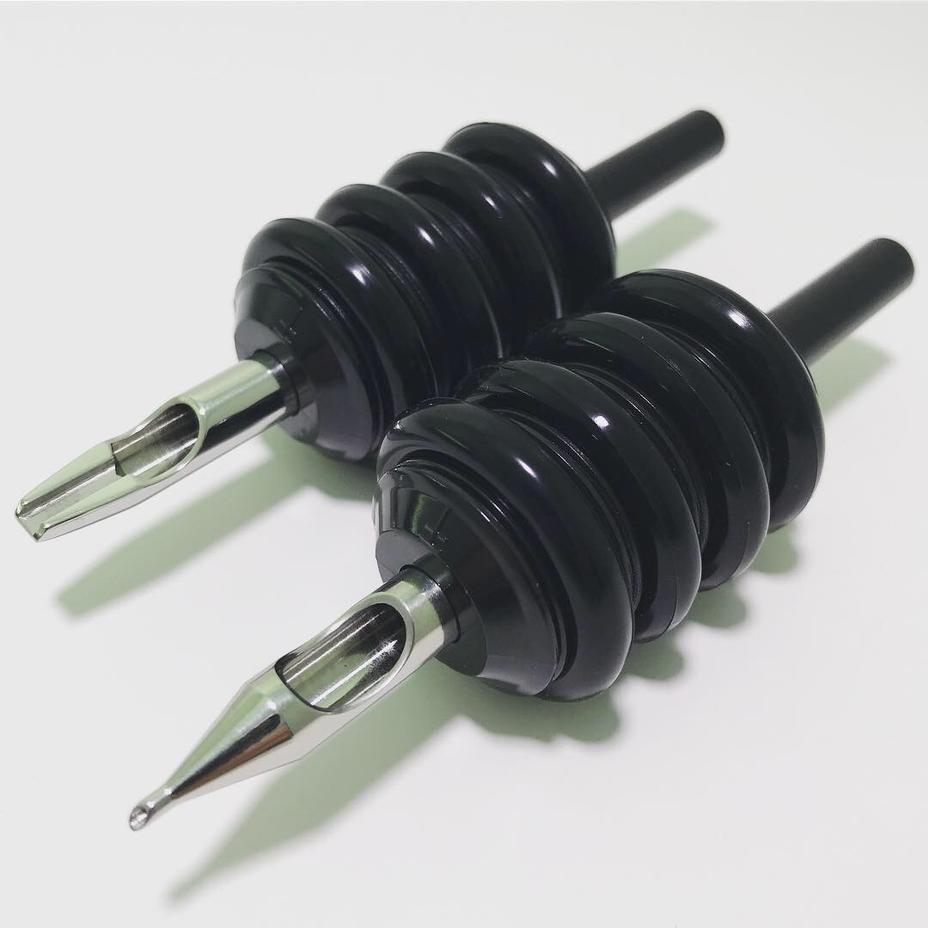 The World's First Adjustable, Ergonomic, Angled Cutback, Steel Tip Disposable Tattoo Tube!


ErgoSquish Ring Tubes are a perfect hybrid of the old-style steel tubes and the modern convenience of disposables, with ErgoSquish offering special ergonomic features which are very helpful for artists who work long hours. True Tubes™are  the "Original" steel tip disposable tattoo tube of it's kind! True Tubes have been tested and researched by todays top tattoo artists, many of today's top tattoo artists use them for their tattooing! True Tubes have high quality 304L, angled cutback tips for better needle visibility and accurate tattooing! With it's unique steel tip, "True Tube"™ is the industries first ever "Original" disposable tube that allows your machine to run consistently at it's "True" speed. True Tube™ is an innovative, inexpensive alternative to plastic tip disposable tubes, while also eliminating the potential risk of injecting plastics into the body. True Tube maintain the metal on metal relationship with the tube and needle, ultimately allowing your tattoo machine to run the way it was intended, at it's "True" speed. Plastic tipped disposable tubes make your machines run different than they should. Plastic produces unnecessary friction, therefore machines need to run at higher voltage, creating greater friction and making tattoo needles hit the skin too hard. True Tubes solve these issues and make tattooing fluent and enjoyable for the artist.


True Tube™ disposable tattoo tubes are work ready, sterilized and ready to use. These revolutionary, disposable tubes are available for most needle configurations and come in a variety of round and diamond tip liners as well as 5 thru 15 shader tips.. The safety of using disposable tubes is essential in everyday tattooing. "True Tube"™ is not only safer for your clients, it also eliminates the need to scrub tubes ever again. True Tubes eliminate the need of unwanted costs of an autoclave, ultrasonic machines, bags, chemicals and other risks. Ideal for artists, tattoo studios and the traveling tattooist, "True Tube"™ eliminates scrubbing tubes and allows the artist more time to focus on creating quality tattoos with the best quality disposable tubes available today! Once you try ErgoSquish True Tubes, you'll have a hard time going back to regular plastic tips! ErgoSquish True Tubes are researched, tested and designed by tattoo artists for tattoo artists!
ErgoSquish™ True Tube Benefits & Features:

* Patented "ErgoSquish"™ Grip
* Multiple adjustable grip options
* Larger, Wider 1.25" inch wide grip
* Less artist Hand Fatigue and Cramping
* Angled Cutback Tips allow more needle visibility
* Best Ink Flow of any disposable tattoo tube on the market.
* Strongest backstem of any disposable tube available
* Custom "ErgoSquish" grip combo possibilities
* First Adjustable, Ergonomic disposable tube!
* Most comfortable disposable tube available
* Custom "Ergosquish" True Tube Grip options
* Absorbs vibration in tattoo artists hand
* Stainless Steel Liner & Shader Tips available
* The safest way to tattoo all of your clients
* Count on a brand new tube for every client
* High standard of manufacturing quality control
* Pre-sterilized, blister packaged and work ready
* ErgoSquish adds extra grip in artists hand for more control


5 Liner Tubes = fits 3-5 needles

8 Liner Tubes = fits 5-9 needles

11 Liner Tubes = fits 9-14 needles