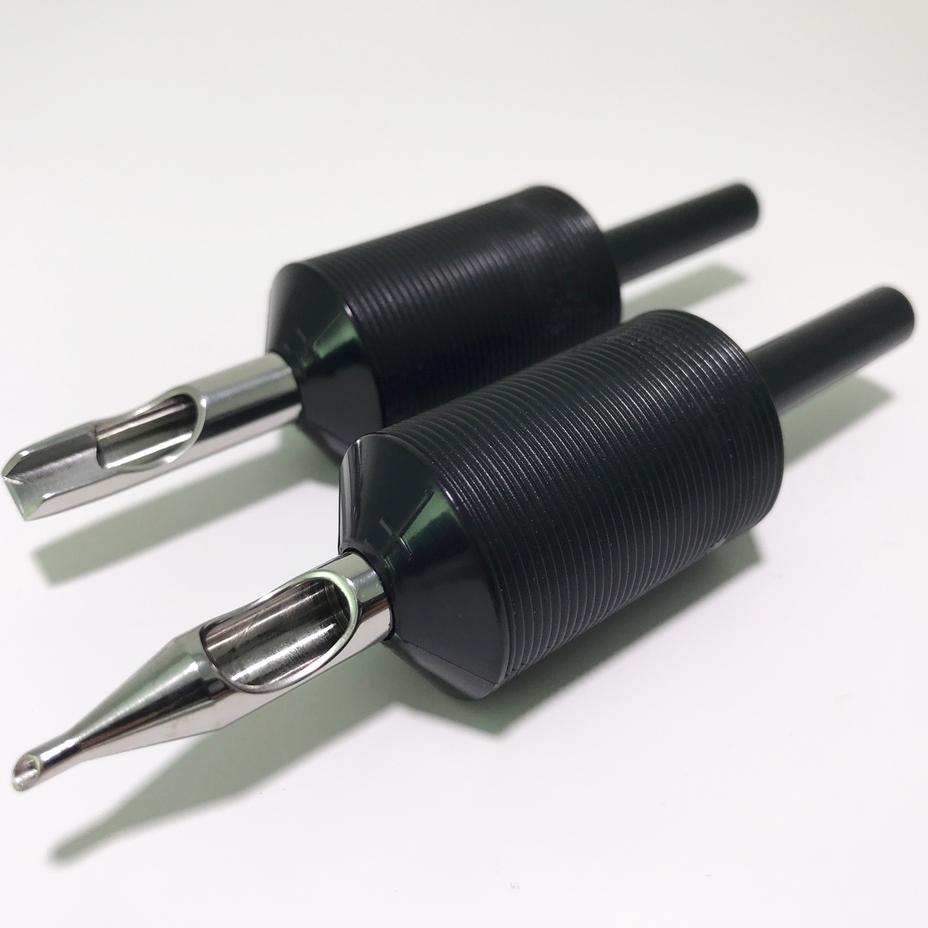 The "Original" Angled Cutback, Stainless Steel Tip Disposable Tattoo Tube!


Working perfectly with all styles of True Grips! True Tubes™ disposable tattoo tubes are work ready, sterilized and ready to use. True Tube™ is the "Original" steel tip disposable tattoo tube of it's kind! True Tubes have been tested and researched by todays top tattoo artists, many of today's top tattoo artists use them for their tattooing! True Tubes have high quality 304L, angled cutback tips for better needle visibility and accurate tattooing! With it's unique steel tip, "True Tube"™ is the industries first ever "Original" disposable tube that allows your machine to run consistently at it's "True" speed. True Tube™ is an innovative, inexpensive alternative to plastic tip disposable tubes, while also eliminating the potential risk of injecting plastics into the body. True Tube maintain the metal on metal relationship with the tube and needle, ultimately allowing your tattoo machine to run the way it was intended, at it's "True" speed. Plastic tipped disposable tubes make your machines run different than they should. Plastic produces unnecessary friction, therefore machines need to run at higher voltage, creating greater friction and making tattoo needles hit the skin too hard. True Tubes solve these issues and make tattooing fluent and enjoyable for the artist!
True Grips work great with our "Original" True Tubes!
True Tubes Features & Benefits:
Researched & Developed by today's leading tattoo artists!

Tattoo efficiently with the "True" feeling of steel tubes.

Keep your tattoo machine running at it's "True" speed.

"ErgoSquish"™ are adjustable, ergonomic & disposable.

True Grips are the World's Most Comfortable Grip Cover.

True Needles are the best tattoo needles at the best price.

Eliminates unnecessary friction caused by plastic tips.

Easiest disposable tube to outline with, unlike plastic tips.

Best Ink Flow of any disposable tattoo tube on the market.

Numerous Custom ErgoSquish Ring combination possiblities

ErgoSquish Rings absorb unwanted vibration in artists hand

Unique 304L stainless steel tip gives the artist more control.

Strongest backstem of any disposable tube available today.

Open tip shaders make for easier clean out while working.

True Tube™ is E.O. Gas sterilized, packaged & work ready.

Completely disposable, saves autoclaving time and risks.

"The Original" Stainless Steel Tip Disposable Tattoo Tube!

Beware of cheap imitations! Trust "The Original" True Tube!

Available in a variety of 304L liner and shader tips.

The safe alternative to plastic tipped tattoo tubes.

Never risk scrubbing dirty, old tubes ever again!

For professionals looking to use the best tubes.

Developed by tattoo artists for tattoo artists!

Stay New, Stay True, Every Tattoo! - READ MORE FAQ's
True Tubes & True Grips Videos - Click To Watch Videos


5 Liner Tubes = fits 3-5 needles
8 Liner Tubes = fits 5-9 needles
11 Liner Tubes = fits 9-14 needles