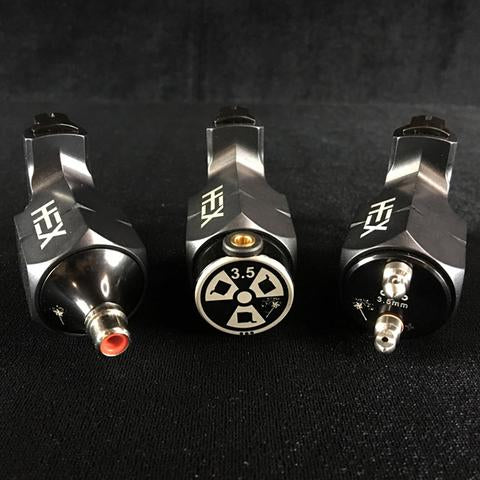 NeoHex Rotary Tattoo Machine by NeoTat
AVAILABLE IN STANDARD and LOCKING LOOP "EyeLoc" ARMATURE!
The "NeoHex" Rotary Tattoo Machine is a brand new and innovative cartridge needle tattoo machine by the mad scientists at Neotat. This state of the art rotary tattoo machine is like no other tattoo machine that you've ever used before. Its ergonomically shaped body fits comfortably in your hand and is easy to grip throughout your tattooing session.
The new linear armature bar aligns the drive needle drive bar for a consistent , non dragging push on the cartridge needles. Accompanied by an innovative locking bar loop system never before seen in tattooing, called the "EyeLoc." The patent pending EyeLoc allows the artist a choice of soft or hard drive bar cushions for best artist preference while working.
With it's sleek, hexagon shaped machine body, the NeoHex Rotary Tattoo Machine by NeoTat runs incredibly smooth and powerful to push even the largest cartridge tattoo needles. These machines are intended for professionals!
The Magic* motor came along to offer an even smoother motion on your stroke lengths. The Magic* motor cartridge is available in 3.5 stroke lengths. The new Magic* Motor Cartridge is the same motor as our standard but with a quite different crank wheel. The new crank wheel is made of larger diameter Brass, to give it a more forward balancing point, which in theory should help push the needle toward the skin. The crank wheel, with its heavier rotating mass, which in theory, should provide a smoother hit up and down with the needle. And in practice has shown to do this well.
The NeoHex Machine comes in three different connector types; RCA, Clip Cord and 1/8 Phono. We prefer the Phono connector as this is the most reliable and comfortable connector type. However, we understand that everyone has their own preferences so we offer RCA and Clip Cord Connectors as well. Available in 1/8 Phono connector only, the "Top Load" motor cartridge allows you to rotate the connector to come out at whichever angle is most comfortable for you.
Available with both Vivace and NeoHex compatible motors.
NeoHex Rotary Machine Aspects:
Hexagon custom shaped body

Rear custom clip cord angle settings

Custom "Eye Lock" drive bar loop locking system

New centered linear armature bar with "Eye Lock"


Vivace Magic or NeoHex motor in every machine

Variety of RCA and clip cord plugs

Variety of stroke lengths

Lightweight aluminum body

6' phono cords also available