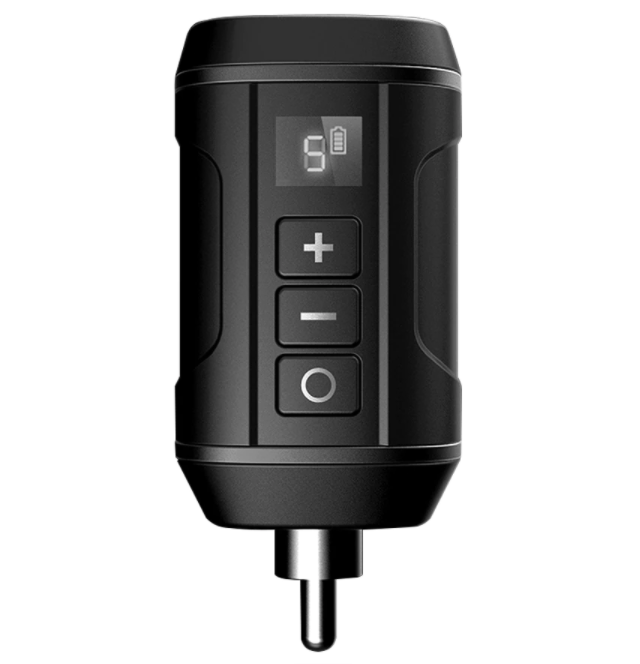 Hello Digital Wireless Tattoo Battery available now at True Tattoo Supply!
The Hello Tattoo Battery has a special protective mechanism includes Output short circuit protection and also Dual input charging protection. Batteries and the control board both equipped with shutdown and overshoot and over discharge protection. 
Battery Details:
5 Hours of battery life.
RCA wireless Mini battery tattoo power supply.
Material: Aluminum alloy and plastic.
Lithium battery: 3 blocks.
Charging time: fast charge, 1-1.5 hours full.
Usable time: normal 8V voltage. voltage stability The status can be used for 3-4 hrs.
Size: 75mm (length) * 32mm (width - thickness) * 55mm (height).
Item Includes = Box, 1x power supply and 1x USB charging cable. 

Instructions for use:
This tattoo power supply machine provides 8 voltages: 5V,6V, 7V, 8V, 9V, 10V,11V,12V.
LCD display 1 means 5 v .and so on.
Press and Hold the O button to turn ON/OFF, click the /- button to adjust voltage.
The Hello battery supply could be working on rotary tattoo machine without cords.
Charging time: 1.5 to 2 hours last working 6 to8hours after full charge.


Does NOT work with Cheyenne Machines.