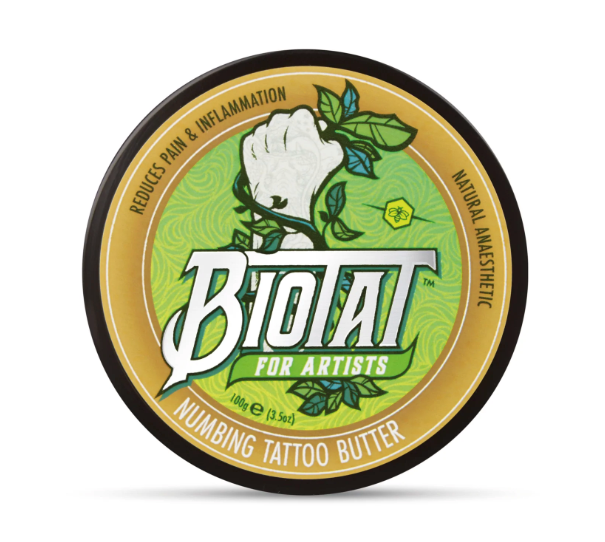 REDUCES PAIN AND INFLAMMATION • NATURAL ANAESTHETIC • MADE IN THE U.K. • CRUELTY FREE • PETROLEUM FREE • CONTAINS LAVENDER • CONTAINS CLOVE • CONTAINS ALOE VERA • ALL NATURAL & Eco-Friendly Packaging.

A luxurious tattoo butter that will change your tattooing forever. Numb the area whilst you work. Use it like any glide or process butter with the added benefits of numbing the area whilst dramatically reducing swelling and redness. Unlike Lidocaine based products this does not puff up the skin making it difficult to tattoo, your customer will be more at ease throughout.
Afterwards you will have a perfect tattoo to photograph without the redness. Don't forget to mention us when you do @biotat_
---
Using only natural products you can now harness the powerful qualities of Clove Oil, Aloe Vera and Lavender to numb the area, reduce redness & inflammation.
This unique formulation is designed to be applied during the tattoo process as you would a glide or any process butter, can also be used as as an aftercare.

---
DIRECTIONS FOR USE:
Apply as required. For maximum effect use with Biotat Numbing Tattoo Green Soap and a final clean down with Numbing Snow Foam.

CONTAINS:
Shea Butters, Glycerin, Syzygium Aromaticum (Clove), Lavender, Aloe Vera.