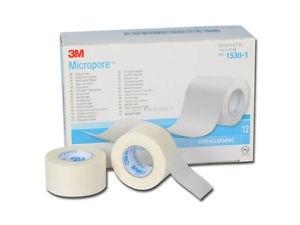 Micropore™ Paper Hypoallergenic Surgical Tape is manufactured by 3M Company. Adheres well to skin without causing irritation or unnecessary pressure Latex-free
* Box: 12 Rolls
* 1″ x 10 yd (2.5 cm x 9.14 m)
* White
* Paper tape is gentle to the skin, porous, and highly breathable to maintain skin integrity. Use to secure small to medium dressings, especially on damp skin.