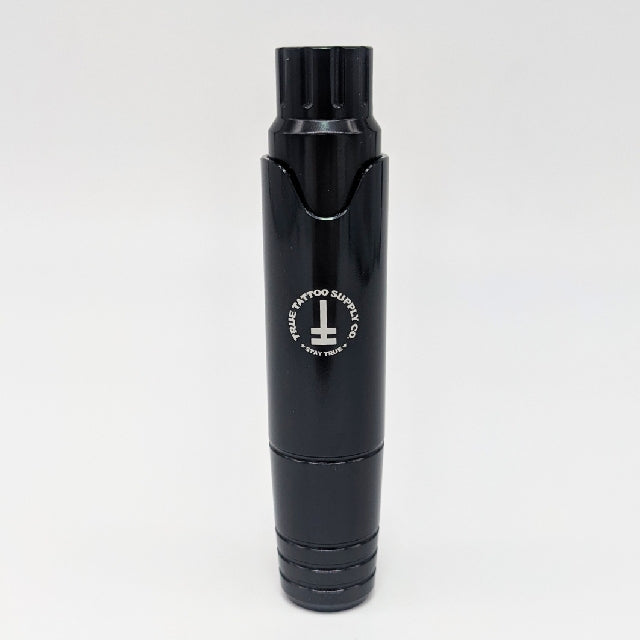 True MAST P10 Rotary Tattoo And PMU Machine
Pen-style rotary tattoo machine for use with needle cartridges. Compatible with all standard tattoo power supplies. Machine frame is made from solid rods of high grade aircraft aluminum then polished and anodized, with a laser engraved True Tattoo logo.
The grip is safe to be sterilized in an autoclave. Rotate the grip to remove it or adjust needle's depth. This tattoo machine frame part is separate with the grip. Clean the tattoo machine frame easily. Seamless frame that protects the inside of the machine.
This machine utilizes a special custom coreless motor, researched and tested tens of thousands of times, then Mast applied this unique motor.

Mast P10 machine for Tattoo, Eyebrow, Eyeliner, Lips, Hairline and more. Designed for PMU artists as a very thin, lightweight and compact pen style machine. Easy to clean and chemical resistant.
Carved from aircraft aluminum alloy, enclosure Custom Japanese coreless motor provides stable and high frequency for many styles. Compatible with all standard cartridges needles. We recommend use 0.20mm or 0.25mm cartridges for eyebrow, eyeliner and lips.
Mast P10 Machine is designed to give you the closest feeling to an actual pen. Exquisite appearance, processing and technology. Light weight, unibody, strong power, super stable, it is quite easy to master.
Mast P10 is a larger design of the Mast Tour machine, you may also be interested in the Mast Tour.
Weight: 117g. RCA Cord connection.
Package Dimensions ‏: ‎ 3.94 x 3.94 x 3.94 inches; 11.08 Ounces

Manufacturer: DragonHawk Tattoo

Type: Rotary

Volts: 6-9 volts