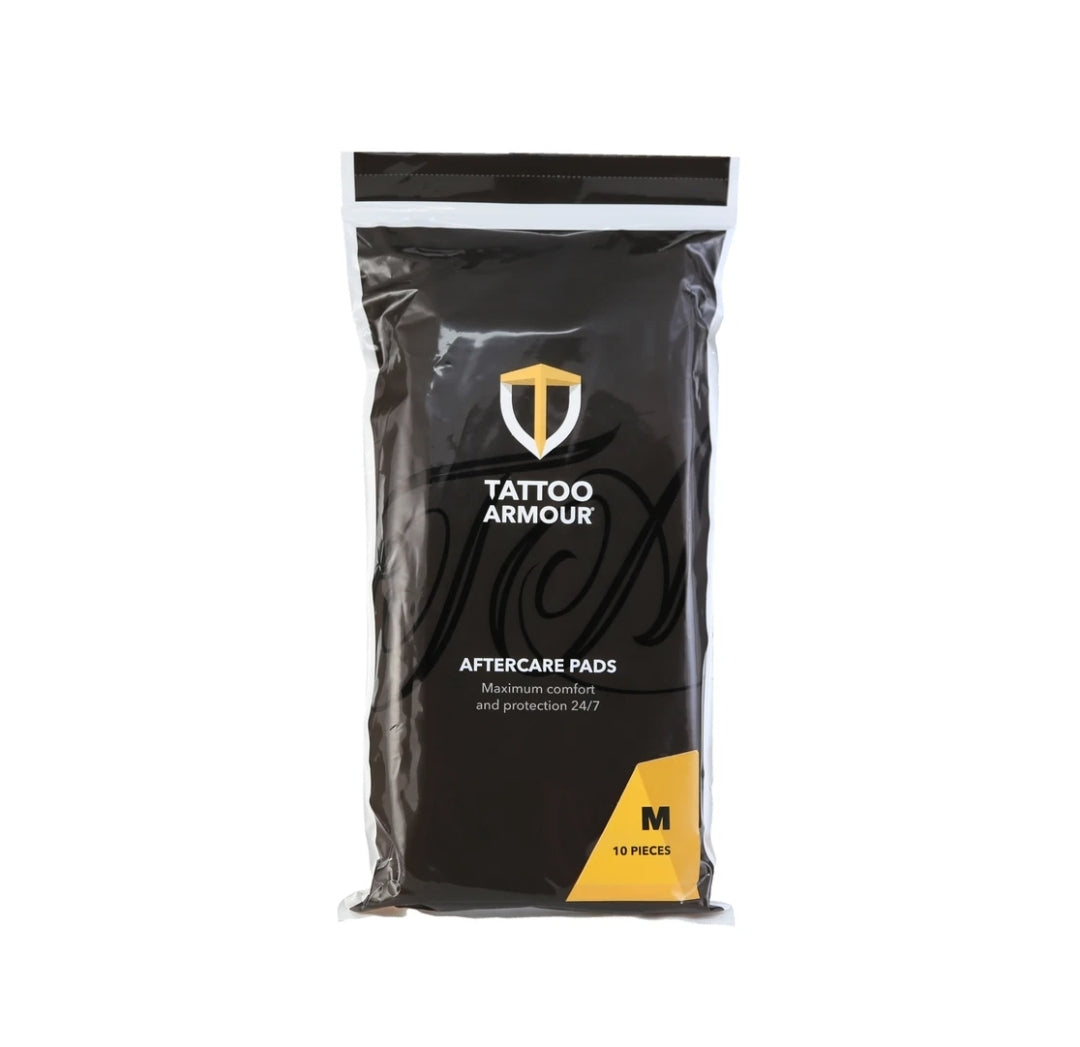 Protect your tattoo as even the best tattoo can be ruined by poor aftercare. Tattoo Armour was developed by tattoo artists who were disgruntled with the lack of quality aftercare products on the market and tired of always settling for the second best option.
Features:
- 2 Pad sizes:  L (12.5" x 15.5")  -  M (4.5" x 8")
- Pack of 10 pads
- Reduces scabbing
- Clean and comfortable
- Easy to apply
- UV-light protection
- Protects against bacteria, germs and dirt
- The Tattoo Armour Pad bag carries 10 pieces, so that the customer can continue aftercare safely at home
- Tattoo Armour is a Class 1 CE-certified medical device pad, it offers you a simple but effective way to take care of your new tattoo

Years of testing led to a product that has optimal absorbability of plasma to prevent excessive drying all while keeping just enough plasma on the skin to secure optimal healing. The pattern on the Pad is specifically designed to hold it's form during healing.
Thanks to the thicker protective pad Tattoo Armour is especially ideal for healing tattoos with lots of color packing. It absorbs ink residue and helps avoid mess.
Tattoo Armour will shield your tattoo against bacteria, germs, UV-light and dirt all of which could damage your new cool tattoo. Tattoo Armour lets your tattoo breathe and heal while you can go about your daily life without worrying about scabbing.
The Tattoo Armour pad is fast and easy to apply on the tattoo, allowing the tattoo artist to rest in ease because every bag contains enough pads for the duration of the healing process to secure optimal quality.
After all - quality should be the only thing that matters, both for the artist and the customer.

More info and artist testimonials can be found in the video below and on Tattoo Armour's YouTube channel.