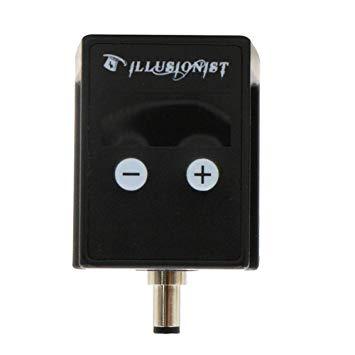 The new Illusionist Tattoo Battery Packs are impressively powerful with long work life! Remove your cables and get nice, smooth power that lasts for hours and hours! Order two power packs and piggyback two power packs for unstoppable tattooing with endless battery! Available in RCA or Phono versions.
This Battery Pack is a LED-Digital Display rechargeable battery pack that provides high and efficient performance. The charging voltage is 5V/1A for the power adapter. 
Charging Time: 3 Hours.
Usage Time: 5-8 Hours, depending on personal usage and the tattoo machine.
Output voltage between 4V-11V
Hold(+) button for 8 seconds to turn on and hold (–) button for 8 seconds to turn off.
Press (+) and (–) to increase and decrease, respectively, the voltage by 0.1V
The LED digits will start blinking when the battery pack is low in battery, please recharge the battery pack immediately.
The digits that show "0-100" when turning on indicates how much battery is left.
When charging, the LED digits' outlines will start circling. Once the battery pack is fully charged, the LED display will show a dash line (-) in the middle.
The package contains the Battery Pack and a USB Type-C cable. Available in RCA or Phone.
Does NOT work with Cheyenne Machines.