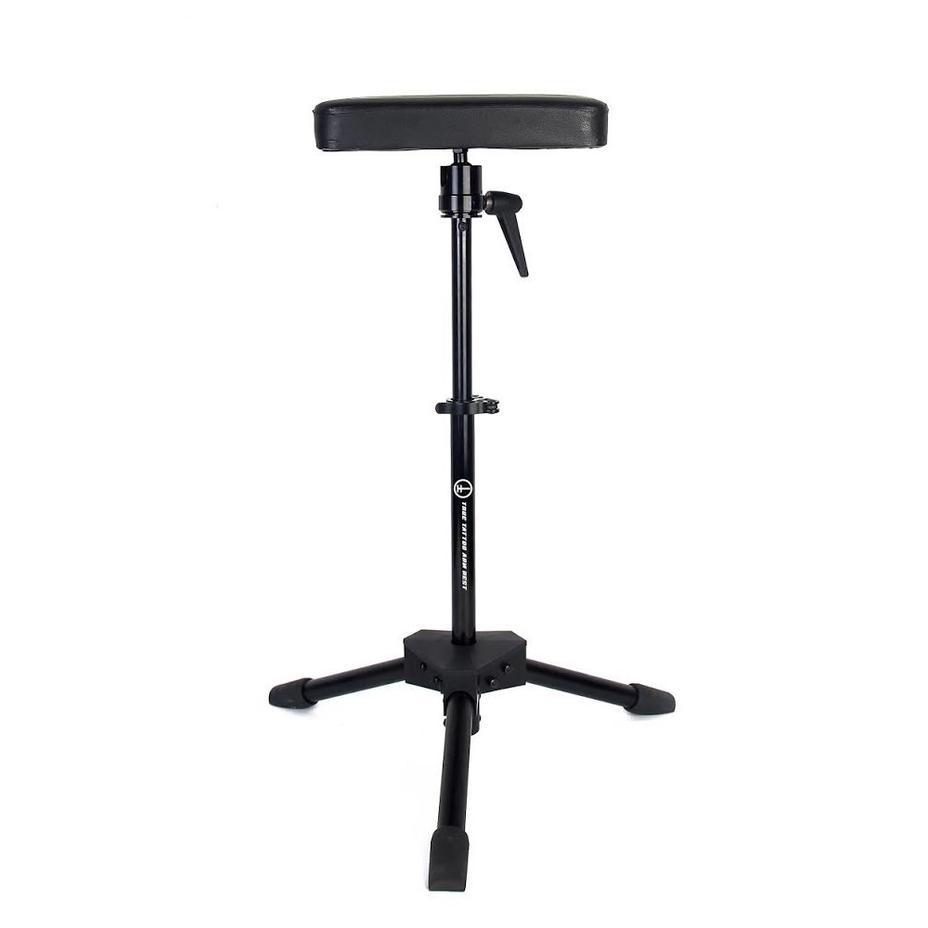 True Tattoo Armrest
True Arm Rest Extensions - CLICK HERE
True & TidBit Trays sold separately- CLICK HERE
*** True Arm Rest, True Arm Rest Extension and True Tidbit Tray sold separately!
The True Tattoo Armrest™ is an affordable, sturdy, lightweight, large surface armrest equipped with a swiveling armrest that locks nice and tight, stays in place and makes for the best possible situation while working on those tattoos you want to get closer to while keeping the client comfortable as well. The True Tattoo Armrest features a solid construction, ball-mounted True Rest Cushion allowing for easy height and swivel adjustments while tattooing. The True Arm Rest also has a Tightening Handle with Push Button release for unlimited rotation. The tripod base guarantees a stable arm rest while working and each leg is easily wipeable to keep it like new after each client. The swivel pad is extremely easy to adjust and tighten and really tightens down better than any other swivel armrest available. Easy to adjust and breakdown to travel with, the True Tattoo Arm Rest is already your new favorite armrest you've ever owned!
* Attention, this item ships in a separate box * 
Box dimensions = 25x8x6 / weighs 8lbs


True Tattoo Armrest Features:
Affordable, Sturdy and lightweight
Locking swivel system
Flat base leg pads add extra stability
Large custom True Arm Pad
Compact & Easy to travel with
360° ball-mounted True Tattoo Armrest cushion
Tightening Handle has Push Button release for unlimited rotation
Tripod base for enhanced stability
Wipeable surfaces for easy cleaning
Easily disassembled for transportation
Available only in the box, does NOT include bag


True Tattoo Armrest Dimensions:
Height Range: 27 inches to 40 inches

Base height is= 23"

Base widest area = 6"

Arm Rest pole = 19"

Arm rest pole with Pad attached = 24"

Arm Pad width = 7"x 12"

Cushion Length: 12 inches

Cushion Width: 6.75 inches

Cushion Thickness: 2 inches

Weight: 7lbs

ARM REST COVER DETAILS
Arm Rest Tattoo Cover - pack of 50 pcs
Arm Rest Tattoo Cover in packs of 50 armrest covers protect your armrest from ink, ointments, soaps, water and more! Keep your armrest clean and dry with comfortable elastic, waterproof premium material. Made of thick plastic, individually packed, single service and disposable for easy tattoo setup and breakdown!