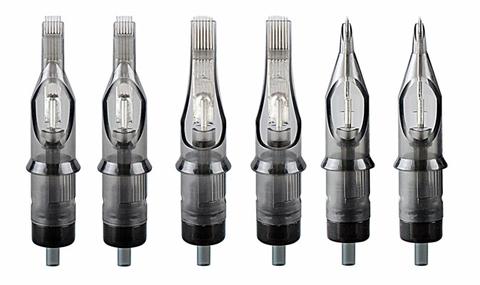 Click here to purchase True Cartridge Tattoo Needles
True Cartridge Needles are the Best Cartridge Needles at the Best Price!


True Cartridge Tattoo Needles are the Highest Quality Cartridge Tattoo Needles at the Best Prices! True Cartridge Tattoo Needles feature the highest quality, durable, smoked clear lexan plastic diamond tip, press-fit into a medical grade smoked, clear casing. True Cartridge Tattoo Needles are a more efficient needle cartridge by design, featuring less tension than other needle cartridges on the market today. True Cartridge Tattoo Needles have an incredibly smooth linear action which gives a smoother needle flow with less tension and faster retraction, which allow the tattoo machine and needles to run smoother overall. This allows the artist to achieve higher speeds with less voltage. True Cartridge Tattoo Needles are 0.35mm diameter with a standard taper, woven stacked configuration recommended for both color and black and grey work. Each box of True Cartridge Tattoo Needles includes 20 pre-sterilized needle cartridges. True Cartridge Tattoo Needles are made of the highest quality tattoo needles with a high quality needle casing providing the artist with the best performing cartridge needle possible!
True Cartridge Tattoo Needles have a rubber band drive instead of a membrane and have an incredibly smooth linear action.  Some cartridge tattoo needles nowadays have a membrane and some have a rubber band. Cartridge Tattoo needle membranes actually have more tension which makes your machine work harder and rubber bands seem to give a smoother flow with less tension which allows the tattoo machine to run smoother on lower voltage using True Cartridge Tattoo Needles. True Cartridge Tattoo Needles have high quality sealed casings which don't allow any backflow into the tube and machine.
True Cartridge Tattoo Needles are essential in everyday tattooing, the benefits of using True Cartridge Tattoo Needles are countless! True Cartridge Tattoo Needles are quickly becoming the tattoo industry favorite ! Why use True Cartridge Tattoo Needles for all of your tattooing projects? True Cartridge Tattoo Needles protect the client and gives then a sense of security and relaxation knowing that every tattoo needle is completely brand new. The majority of the tattoo industry is now using disposable tattoo tubes and needles and other disposable products.

Using True Cartridge Tattoo Needles and True Cartridge Tattoo Tubes has many benefits outside of just tattooing with them. Using True Cartridge Tattoo Needles and True Cartridge Tattoo Tubes eliminates the additional risks of scrubbing dirty needles, which has many cross contamination points and is a risky process in general, exposing artists to unwanted additional sanitary risks. disposable tattoo needles also eliminate the need for expensive autoclaves, ultrasonic machines, harmful chemicals used to sterilize, tube bags, spore tests, and saves the tattoo artist many hours of sterilization time, allowing the tattoo artist to have more time to focus on tattooing with a brand new needle every time. True Cartridge Tattoo Needles disposable tattoo needles are work ready, sterilized and ready to use. True Cartridge Tattoo Needles is the best possible way to ensure a brand new, sterile tattoo needle that performs like new every time!
True Cartridge Tattoo Needles Styles:
Standard Liners - The perfect liner needle for those clean, crisp, tight or large tattoo lines.

Turbo Liners - Liner needles with the center needle missing for fast, smooth and solid lines.
Bugpin Liners - For an incredibly precise and super tight line.
Magnum Shaders - Duel layered, weaved shader needles for smooth shading and solid colors.

Curved Mag Shaders - Rounded mag shader needles with curved edges for shading or coloring.

Bugpin Magnum Shaders - Duel layered, bugpin shader needles for very smooth shading.

Curved Bugpin Mag Shaders - Bugpin Shaders with curved edges for ultra smooth shading.
Round Shaders - Round shaders spread perfectly for shading or coloring small areas.
 "Stay New, Stay True, Every Tattoo"!

*Wide Variety of Liner and Shader Sizes and Styles.
*There are over 40 styles of True Cartridge Needles
*Thinner needle plate and walls for perfect accuracy.
*Cut Back round liner tips for better needle visibility.
*Open Tip Mag shaders for easy clean out and color changes.
*Large Bugpin sizes for the best black and grey shading.
*Smooth and stable working plungers for best performance.
*Regular Liners create a perfect one pass line work.
*Turbo Liners have missing center needle for fast, bolder lines.
*#12 medium taper mags for smooth, solid shading and color.
*Curved Mag shader needles for a softer hit while working.
*Bugpin needles are perfect for super smooth black and grey.
*Highest quality plunger band for smooth & consistent needle drive.
* 20 True Cartridge Tattoo Needles per box.
* Liners are made of medium Long Taper Needles.
* Shaders are medium Needle Taper.
* Woven stacked configuration.
* Recommended for both color and black and grey.
* The safest way to tattoo all of your clients.
* Made of  High Quality Surgical Stainless Steel.
* High standard of manufacturing quality control.
* EO Gas Pre-Sterilized,  blister packaged and work ready.
* Count on a brand new, precise needle for every client.
CARTRIDGE NEEDLE CASING CRACKING OR BREAKING?

We have seen this happen in the past when the artist is typically trying to get additional depth with their cartridge needle or have their tube pushed too far into the machine vise or have their machine running a little heavy. The artist typically tries to get more needle depth when lining or shading, causing the artist the adjust the tube to a deep setting, which therefore applies more pressure to the cartridge needle plunger bar and also creating more pressure when the machine is running on the actual cartridge casing. The results of this can be needle seizure, breaking the rubber band due to improper extension of the rubber bands depth and also driving the needle plunger into the casing too far which will not allow the plunger and needle to return to it's resting position. Try to back your tube out to the proper depth so the drive bar does not impact the cartridge needle casing and plunger too hard, resulting in what may be the issue. 

 BACK FLOW?
True Cartridge Tattoo Needles are safe for all machines, unfortunately not all machines are the same and can somewhat fit the needle cartridges from various companies differently. Typically, if the cartridge casings themselves are high quality and sealed, the membrane is not what would stop the leakage or back flow. sometimes it's the actual insertion area that doesn't fit all cartridge casing as snug as others allowing for a micro gap for liquids to get through. The retraction systems of either rubber bands or membranes are preference among the artists. A lot of backflow issues that artist have is when they are rinsing their tips and go too deep with the needle itself causing the liquid to backflow a little, of course this can happen with ink as well. 
A well manufactured cartridge needle casing should not leak internally though, another cause of backflow is the angle that the artist is working at, whether or not they are leaning their machine at an angle that would cause backflow issues. We feel the current pen machine styles are unsterile, so we always suggest artist to use disposable cartridge tube with cartridge needles, that way backflow doesn't happen to go into the machine itself, this is a current issue with the pen style machines being susceptible to this issue. 
Precision tattoo needle cartridges
trutip truetip 
#trutiptattoocartridge trutiptattoocartridge