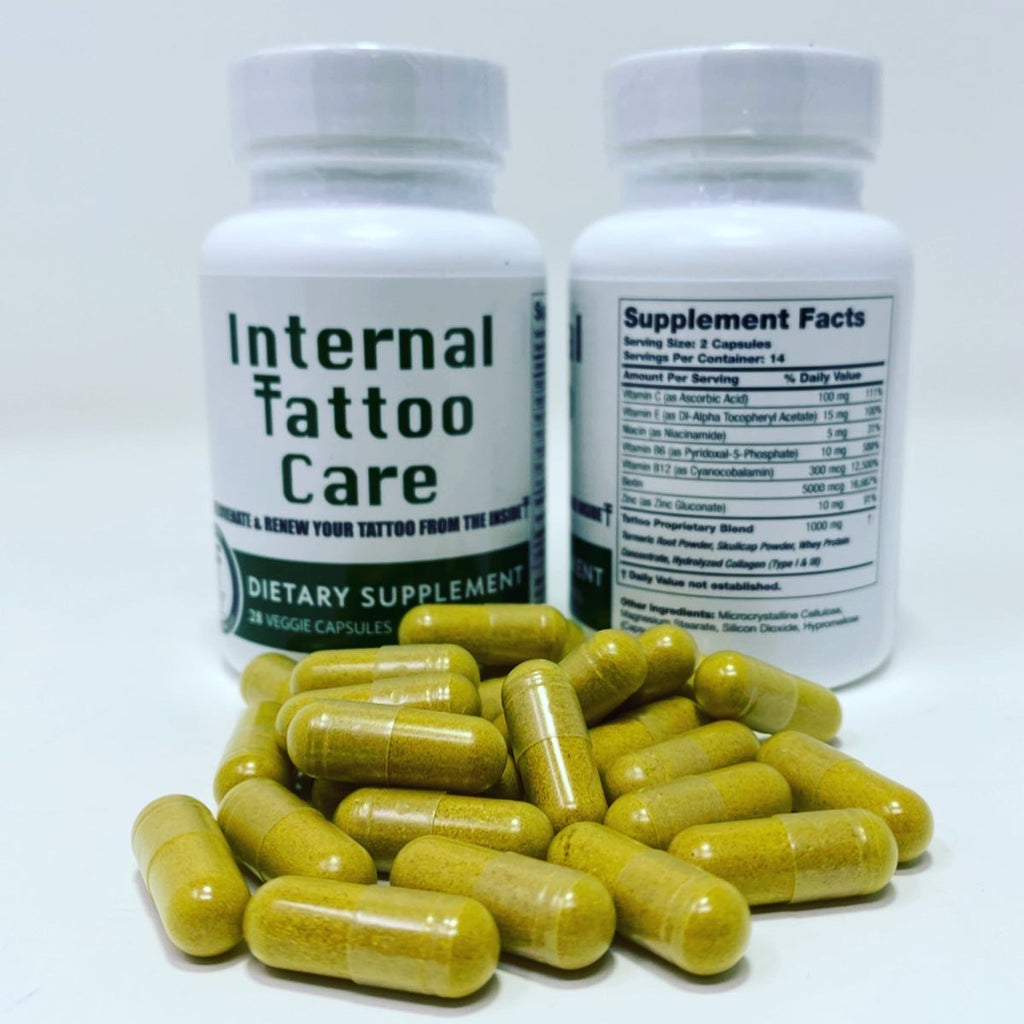 Click here to purchase True Tattoo Care
True Tattoo Care "The World's First Internal Tattoo Aftercare"
An all natural internal tattoo aftercare with essential vitamins and minerals that promotes and speeds up the rejuvenation of the body & skin.
INTERNAL TATTOO AFTERCARE "REJUVENATE YOUR TATTOO FROM THE INSIDE!"
True Tattoo Care is an all new approach to tattoo care focusing on the tattooed body providing a focused internal tattoo care formula that promotes and speeds up the healing of the body and skin. True Tattoo Care is a specially formulated tattoo recovery supplement taken internally to promote healthy skin using vitamins, minerals and more to assist the body with exactly what it needs during the recovery and healing period from getting a new tattoo or healing a wound.
True Internal Tattoo Care enhances the immune system and skin while nourishing the skin and assisting in the healing process which is vital to proper healing of the skin, starting on the inside. Our unique True Tattoo Care tattoo aftercare capsules have been specially formulated by tattoo artists working diligently with nutritional experts to develop the words first internal tattoo care system. True Tattoo Care is made in America, all natural, vegetarian and GMP compliant!
Great for all kinds of damaging procedures or incidents with the skin helping with cellular regeneration of the skin. True Tattoo Care also works great during the healing process from tattooing, suspensions, piercings, abrasions, branding, scarifications, laser removal and many other damaging procedures to the skin.
Healing times are different with every client due to their lifestyle, dietary habits or other pre-existing conditions. True Tattoo Care minimizes healing time by giving your body the vitamins and minerals your skin requires to rejuvenate and restore the skin's natural state quickly. Used with the clients favorite topical tattoo aftercare, True Tattoo Care is an excellent addition to the healing process for any new tattoo!
True Internal Tattoo Capsules are organic and gluten free. Having a vegetable based capsule with all natural ingredients. True Tattoo Care is made in America, all natural, vegetarian and GMP compliant! True Internal Tattoo Care is free of gluten, sugar, eggs, fish, peanuts, soy, tree nuts, yeast, wheat, artificial sweeteners, flavors, colors, preservatives. True Internal Tattoo Care is also an antioxidant with vitamins and minerals to assist the body while healing. It also promotes healthy skin, hair and nails to keep your skin young and healthy longer.
True Tattoo Care is a safe and healthy addition to tattoo aftercare for clients looking to speed up the healing process and rejuvenate the skin as quickly as possible after getting a new tattoo!
 
True Tattoo Care Formula:

Zinc (as Zinc Gluconate)- 10mg
Niacin (as Niacinamide)- 5mg
Vitamin E (as Dl-alpha tocopheryl acetate)- 15mg
Vitamin C- 100mg
Vitamin B6 (as Pyridoxal 5 Phosphate)- 10mg
Vitamin B12 (as Cyanocobalamin)- 300mcg
Biotin- 5000mcg
True Tattoo Proprietary Blend- 1000mg
SkullCap
Turmeric
Whey Protein Concentrate
Hydrolyzed Collagen (type I & III)

TRUE TATTOO CARE INSTRUCTIONS:
Take 2 capsules with food & water.
14 servings per bottle.
28 capsules per bottle.
2 weeks healing cycle.
Capsules are vegetarian.
Use in addition with your favorite topical tattoo care.
Take with water after you eat food before taking.
Do not take more than recommended daily use.
Continue to wash tattoo daily with antibacterial soap.
* MADE IN AMERICA * INSURED * NATURAL * GMP COMPLIANT *

Sourcing and Purchasing all raw materials, Blending, Encapsulating, Bottling, the Bottle and all of its accessories (Desiccant Pack for freshness, Cotton Stuffer, Lid, heat induction seal under the cap, all testing for GMP Compliance, and tamper proof neck band seal).
Manufactured by the leading provider of custom dietary supplement manufacturing, packaging, design and fulfillment services, specializing in powders, capsules, tablets, soft gels and liquids."
Zinc - is an essentially mineral found in cells throughout the body. It helps the immune system fight off invading bacteria and viruses. The body also needs zinc to make proteins and DNA, the genetic material in all cells.
Niacin - helps keep your nervous system, digestive system and skin healthy. Every part of your body needs it to function properly and plays a role in cell signaling and making and repairing DNA, in addition to acting as an antioxidant.
Turmeric -  is an antioxidant and anti-inflammatory that contains antioxidants and anti-inflammatory components. Turmeric promotes healing of wounds and also fights eczema and psoriasis and reduces scarring and may also revive your skin by bringing out its natural glow. 
Skullcap -  has been used in herbal medicine for treatment of inflammation, infection, cancer, and other ailments. Skullcap is increasingly included in skin care products for the benefits offered by its potent antioxidant, anti-inflammatory, and skin-brightening properties
Whey Protein -  is critical during the wound healing process because it helps the body repair damaged and sore muscle and tissues.
Vitamin C -  helps the body form new collagen, so it is an important antioxidant for wound healing. Vitamin C antioxidant properties aid in skin's natural regeneration process, which helps the body repair damaged skin cells. Perhaps the best-known antioxidant, vitamin C offers a wide-variety of health benefits. These benefits include protecting your body from infection and damage to body cells, helping produce collagen (the connective tissue that holds bones and muscles together) and helping in the absorption of iron and folate.
Vitamin B 12 & 6 - Vitamin B12 helps to regulate the production of pigment in the skin and assists the body with the metabolism of protein which, in turn, promotes the growth of healthy skin cells and helps to repair damaged skin.
Hydrolyzed Collagen - Collagen is the most abundant protein in the skin. Hydrolyzed collagen can support overall skin health and combat the effects of aging. It can reduce the appearance of wrinkles, increase skin hydration and smoothness, and support skin elasticity.
Biotin B7 - is important for your skin, hair and nails and is a water-soluble, B-complex vitamin that contributes to healthy metabolic, nerve, digestive and cardiovascular functions. Biotin produces fatty acids that nourish the skin to maintain and assists in the production of new cells and helps oil glands function properly, resulting in the healthy condition of skin.
Vitamin E - speeds wound healing and improves the cosmetic outcome of burns and other wounds. Many lay people use vitamin E on a regular basis to improve the outcome of scars and several physicians recommend topical vitamin E after skin surgery or resurfacing
Capsules -  Veggie capsules
All claims are those of True Tattoo Care and not the FDA, it is not intended to diagnose, treat, cure or prevent any disease.