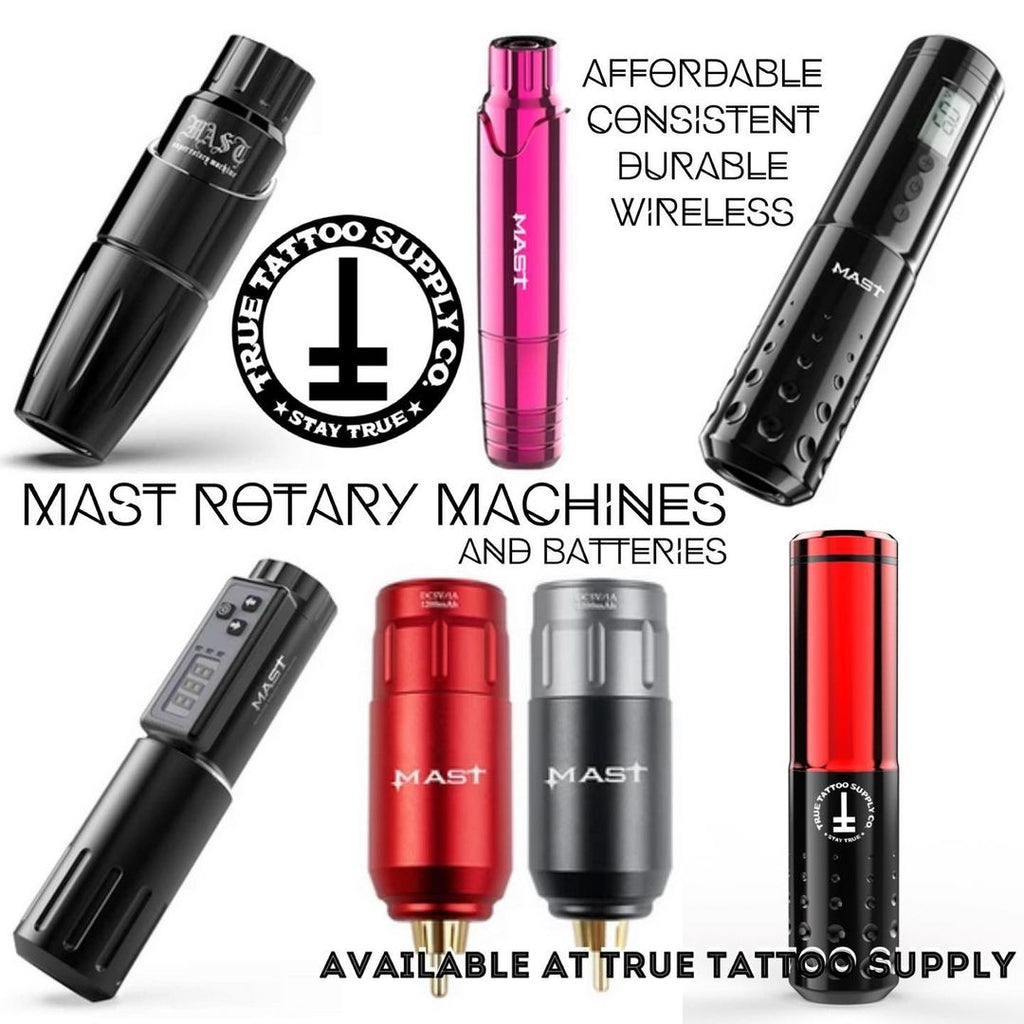 True Mast Rotary Pen Tattoo Machines are one of the Industry's best rotary tattoo pen machines at the best prices! Don't fall anymore for expensive, overpriced rotary tattoo machines with the exact same technology and craftsmanship as our line of True Mast Tattoo Machines! Trusted by more tattoo artists than you think! The True Mast Rotary Tattoo Machines are affordable and reliable for every tattoo artist and are perfect for all kinds of tattooing including outlining, fine dot work, color packing, shading, soft black and grey or realistic tattooing styles!
Mast Lancer wireless tattoo machine can work 8-12 hours with one battery for tattooing and has an LED screen shows operating voltage and 0.1v voltage adjustments, battery capacity is 1900mAh.
Anodized aircraft aluminum body.
Lightweight and precision machined.
Features jumpstart and memory functions
Stroke Length: 3.5mm.
Adjustable cartridge needle length from 0mm up to 4mm with twist of the grip.
This Mast Lancer machine has two replaceable wireless batteries, charged fully in 2 to 3 hours.
RED & BLACK colors available.
The LED display indicates working voltage & working time.
Battery Capacity: 2000 mAh, Volts:5-9 volts, Recharging Time: 2 Hours, Powerpack Working time: Minimum 8 hours, Output Voltage: 5 V to 12 V, Stroke Length: 3.5 mm, Needle protrusion:0-4.5 mm, Suggest voltage for lining: 7.5 V-9 V, Suggest voltage for shading:6V-8V, RPM:8000-10000
The MAST-TOUR Rotary Tattoo Machine Package includes one Mast Tour rotary tattoo machine and Dragonhawk RCA cord. The 
Mast Tour tattoo machine is our brand smallest machine that could be bagged very easily. This tattoo machine made for traveling and need to place easy tattoo artists.
Mast P10 machine for Tattoo, Eyebrow, Eyeliner, Lips, Hairline and more. Designed for PMU artists as a very thin, lightweight and compact pen style machine. Easy to clean and chemical resistant.
Carved by aircraft aluminum alloy enclosure Custom Japanese coreless motor provide stable and high frequency for many styles. Compatible all standard cartridges needles. And we recommend use 0.20mm or 0.25mm cartridges for eyebrow, eyeliner and lips.
Mast P10 pen is designed to give you the closest feeling to the actual pen.Exquisite appearance processing technology. Light weight, unibody, strong power, super stable, it is quite easy to master. Weight: 117g. RCA Cord connection. Continuous operation.Smooth, soft, and quiet operation,Ideal healing results.