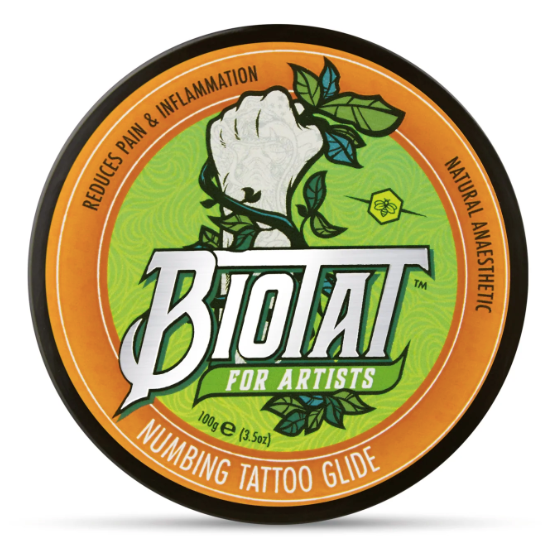 REDUCES PAIN AND INFLAMMATION • NATURAL ANAESTHETIC • MADE IN THE U.K. • CRUELTY FREE • CONTAINS HONEY • CONTAINS LAVENDER • CONTAINS CLOVE 
& Eco-Friendly Packaging 
A luxurious tattoo glide that will numb the area whilst you work.
---
Using only natural products you can now harness the powerful numbing qualities of Clove Oil, Honey and Lavender to numb the area, reduce redness & inflammation.
This unique formulation is designed to be applied during the tattoo process , can also be used sparingly as as an aftercare.
---
DIRECTIONS FOR USE:
Apply as required, as an aftercare apply sparingly. For maximum effect use with Biotat Numbing Tattoo Green Soap and a final clean down with Numbing Snow Foam.
CONTAINS:
Medical Grade White Petrolatum, Syzygium Aromaticum, Glycerol, Honey, Lavender.