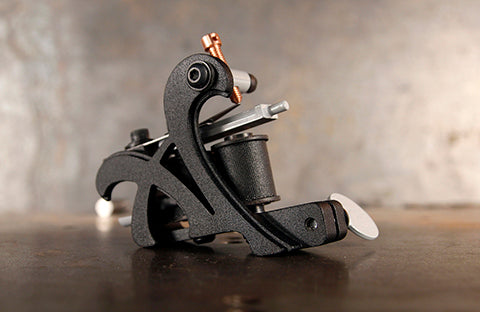 The "Bendu" Coil Liner Tattoo Machine by Workhorse Irons
The new "Bendu" coil tattoo machine designed by legendary tattoo artist, Durb Morrison and forged from Workhorse Irons , the world's leading coil tattoo machine company! 

The Bendu is a balanced and sophisticated steel tattoo machine that brings the tattoo artist the bonus of a powerful, lightweight liner with a slick frame design that has a soft, curved and comfortable look and feel.
The "Bendu" tattoo machine is machined form a solid block of ductile iron for a solid performing liner tattoo machine that runs smooth and powerful for any size line work! 
The Bendu's swing gate tube vise is an added bonus for a snug fit that is easy to get tubes in and out of. The centered force of the Bendu Liner machine brings balance to any artists hand with it's flowing edges and recessed borders.