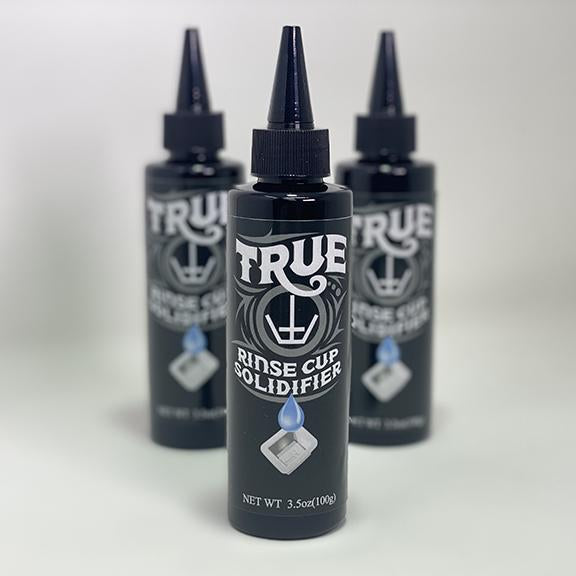 True Rinse Cup Solidifier - 3.5 oz (100 g)
The safest and easiest way to dispose of your tattoo rinse cup after any tattoo procedure! A safe and easy way to get rid of your True Rinse Cup. Simply add a little of this at the end of your tattoo, and your water quickly becomes solid enough to throw away without worry of leaking trash bags or leaking paper towels.
A little goes a long way.
Doesn't fall apart and recontaminate.
Faster absorption than any other.
Won't overflow cups or separate like others.
Forms a solid gel base for easy and safe disposal.
DIRECTIONS
Unscrew outside cap.
Cut the inside stem to desired width.
Cut with with scissors.
Squeeze into your rinse cup and ink caps
(1g into 2.5 oz of water)
Allow the water and ink to solidify
Dispose of them in the trash.
Squeeze True Rinse Cups Solidifier into your tattoo Rinse cup and ink caps. 
Allow to solidify before disposing into your trash can.
Dispose of rinse cup, rinse cups solidifier and ink caps in your trash properly.
WARNING:
Warning do not get in eyes, do not inhale, do not ingest.
Keep out of reach of children.
Store in a cool dry place.
100% Biodegradable and disposable.
Net WT 3.5 Oz (100g)